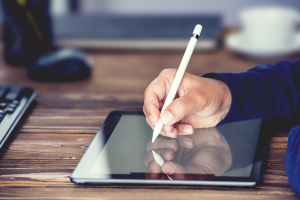 Sam Gabler is a business broker in the Southeastern US. He has been helping to list and sell mostly retailers for 17 years. He says the market has changed, and it is not just due to Covid.
"Technology is driving a lot of what we do," he explains. "There were a lot of listings due to Covid closures and we had some people who took advantage to buy up equipment and leases. Now, they're sub-leasing or opening new places. And we got them all by deploying new software. Honestly, we benefitted tremendously by being flexible in the way we do business."
His most recent move: Taking on a new system called VerticaSign that is a less expensive version of DocuSign.
"Any time we can save money and not sacrifice quality is a win for us," he says. "We saved almost 50%. That's huge. I'll take it!"
New Technology for a New World of Brokerage
The business brokerage business is changing at lightning speed, according to Josh Factor, President of VerticaCRM. In fact, he agrees that it has as much to do with technology as Covid. His company just went live with VerticaSign. It integrates the ability to do all the functions of DocuSign for less money and with more functionality as its built into your CRM.
" VerticaSign has been integrated into our CRM (Customer Relationship Management) tool and is also available as a stand-alone as an app," he explains. "Docusign is a great platform, but it's expensive. We give it as part of our package for much less. And it protects both parties – brokers and their clients."
Additional Features and Functions
Josh jokes that his CRM has more "bells and whistles." This includes a tool that will parse emails from BizBuySell.com directly into the system. He says it then automatically guides the buyer to register on the website without broker intervention and even follows-up with the buyer on your behalf so you can focus on other priorities.
"We're saving the broker a step or two of work but also ensuring that the potential buyer comes straight into his platform," he adds. "It's a two-in-one and it's free in the system."
Anyone who ever needs to sign a contract. Specifically business brokers who facilitate LOI's and listing agreements and buyer registrations.
We already have an integrated buyer registration process with a digital signature that saves as a PDF in the CRM and alerts all parties involved of the registration being complete, but this takes it a step further where we can facilitate any documents anytime with all the features of DocuSign
email from the CRM with instructions to get registered and guide them through the process
A Beneficial System for LOI's
Sam says the system works best for him because of the volume of listings and letters of intent (LOI's) he gets. He says the savings add up.
"We have tons of listing agreements and buyers looking. We need to keep up with them and all the LOI's. Having people sign online and having it all in the system saves us so much manpower and wasted time," he says.
Josh adds: "We already had an integrated buyer registration process with a digital signature that saves as a PDF in the CRM. It alerts all parties involvedthrough our advanced Workflow Automation. This saves an additional step for everyone involved. Our system facilitates any documents anytime with everything that DocuSign has. Again, at half the price."
Josh says that the system has been selling well. He adds that the feedback has been positive.
"Who doesn't want to save money and have superior technology?" he asks. "My clients know that this will help them get more deals for less expense. Period."
Vertica CRM is software company dedicated to helping Business Brokers and M&A professionals work more efficiently through technology and earn more commissions. Now introducing VerticaSign a stand alone Document signing tool or fully integrated tool within your CRM. For more information about, Business Brokers CRM, visit www.BusinessBrokersCRM.com or call +1 212 381 4994 in the USA or +61 385 184 759 in Australia.