THE MANY BUSINESS DEAL KILLERS (AND HOW TO AVOID THEM)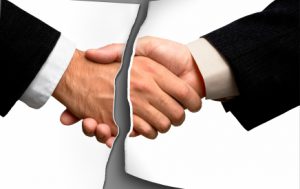 Tom Lloyd remembers the first time a deal died at the closing table. It would have been his second as a business broker and the commission was "substantial."
"We're all sitting there in a conference room at the seller's lawyer's office," he says, still sounding exasperated even though this event took place over 10 years ago. "Everyone is there. Paperwork is all laid out on the table. They must have gone back and forth twenty times on wording. Whatever, it was done."
He takes a deep breath and laughs.
"Then the buyer's attorney says, 'I've advised my client not to proceed with this deal.' Just like that. Like he's telling us he's going to have pizza for lunch."
Tom continues with the story, with obvious chagrin.
"I asked if perhaps there was a reason? Could we fix it? Was it in the terms? And the lawyer says, 'No, nothing like that. I just told him it was a bad deal.' I then asked if perhaps he might have mentioned this before we all came in for the closing. He admitted that might have been nice."
Deal killers. They are the working minefields of a business brokerage. Lawyers, landlords, financial advisors, friends, family members. They each have their reason for not wanting a deal to happen. As a broker, there are ways to avoid at least some of these pitfalls as you march towards a deal.
Looking Ahead (and Behind)
Josh Factor is the founder of Business Brokers CRM. He has been in the business brokerage industry for more than 15 years. He has seen and heard many stories like Tom's.
"A deal has many what I sometimes call 'enemies,'" he says. While from New York, He is speaking from Australia, where many of his international clientele is based. "You might have a family member who doesn't want to sell because they enjoy the lifestyle it affords them or they think it's worth more, even though they have no idea how to value a business. There are landlords who will not give leases or there may be hidden liens that a municipality or debtor is owed. So many obstacles to closing a deal."
The brokerage veteran has a laundry list of advice he gives to brokers looking to avoid these hassles, including:
Landlords Hold the (Figurative and Literal) Keys – Have you spoken directly to the landlord? Has that entity agreed to allow the switchover of the lease or the creation of a new one?
Money Men – Most accountants and financial advisers will tell their buying clients not to do the deal. This way, they can always say, 'Told you so.'
Legal Woes – Make sure the lawyers are behind the deal. Have discussions with both sides to hear if there are any misgivings or signs that they want to squash the deal
Family Blockers – Ask the owner if there are family members or silent partners who will not accept this deal. The owner will know if his son thinks it would be an insult to grandpa's memory to sell.  Sometimes it's the seller themselves that needs a confidence boost before the closing.
Liens Lurking – Find out if there is money owed by the seller. If they have not paid property taxes for six years and that amount is more than the price, you may have a problem.
Josh says that many of these issues can be overcome with transparent and frank discussions. He says he even added tools to his software to keep track of all the players.
"You need to have notes on all these people," he explains. "Because you don't want to end up at the table after four months of negotiation to walk away with nothing like that guy you just told me about. Man, that's brutal."
Joshua Factor is the founder of Vertica CRM. A software company dedicated to helping Business Brokers and M&A professionals work more efficiently through technology. For more information about their main product, Business Brokers CRM, visit www.BusinessBrokersCRM.com or call   +1 212 381 4994 in the USA or +61 385 184 759 in Australia.