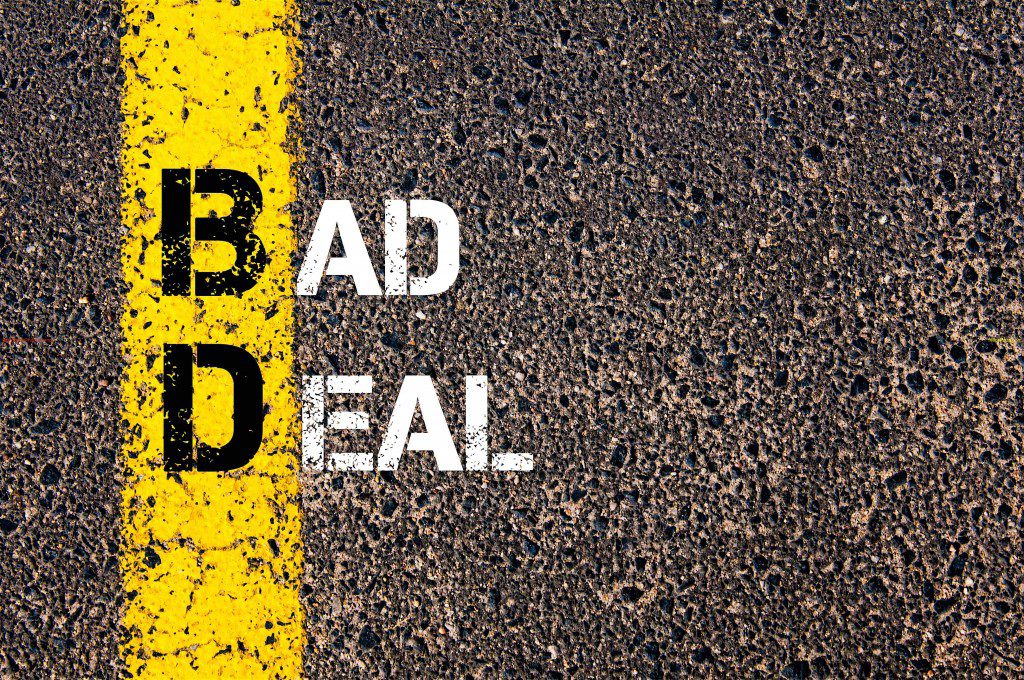 Lou Brill has done over a hundred deals in his career as a business broker. Based primarily in New Jersey, he has sold businesses in New York, Pennsylvania, and Connecticut as well. He even keeps a map of his deals (identified by colored stickers) on his home office wall.
He keeps another map on the opposite wall. It has flags for all the deals "that got away."
"Sometimes I look at the 'got away' map when I'm dealing with a particularly difficult client," says the ex-Wall Street executive. "I think to myself, 'Is this worth it? Will it come to fruition? Should I cut and run? Which dead deal does this remind me of?'"
Lou says the latter map has many more marks than the "closed deals" map. And each tells a story.
"I have a cluster around Atlantic City," he explains, pointing out several flags, each with a black line through them. "I was dealing with this group of guys who told me they wanted me to be their broker to sell off bars and restaurants and some properties. It was like a dream come true. I drove down there because they insisted on dealing with me face-to-face. Usually, I'm like an air traffic controller. I rarely leave the office. I do everything on the phone and via email. But I would spend hours in the car, signing up another tavern, another pizzeria, all in the hopes of getting the deal."
He soon realized that his sellers were not the most honest, up-front businessmen in the history of the Garden State.
"They didn't actually own the businesses," Lou says, incredulously. "Can you believe it? They literally were fronting for actual owners. They would get a piece of the action for bringing me in, I guess. They were some sort of gangsters, perhaps forcing the owners to cut them into the deal. It was surreal when I found out. One of my buyers was like, 'Uh, Lou, I met the owner today. And it's not your guy.'"
Lou says the buyers tried to go around both his and his phony clients' backs to buy a bar off the Atlantic City Expressway. When they found out, they threatened the buyer, the seller, and even Lou.
"That's when I washed my hands of them. I figured, if I stick around, I might get a commission. Or I might get a broken leg. I'll cut my losses and go to the next deal."
No Money Can Buy Back Ethics
Josh Factor, owner of Vertica, a business broker software company, heard this story straight from Lou since they work together. Josh's firm provides the software that Lou's firm used. Josh also acts as a sounding board for many of his clients since he was a business broker for over a decade himself.
"Okay, Lou's story is a pretty extreme example," he says, speaking from an airport in Ohio. He is signing up a new client and pitching another, he explains. "But every business broker has a moment when he or she thinks, 'I've got to get away from these people. They're toxic. They're never going to make this happen. I'm totally wasting my time and lying to myself that it'll happen.' It's really hard, though, because a broker's time is money. It's all he or she has to offer a client. Walking away is brutal, but often necessary."
After closing hundreds of deals in his career, he had some profound advice that made me think. "Sometimes the best listing that you take is the listing that you don't take."  You will eventually learn that sometimes, if you get "that feeling", you need to trust your instincts.  If you think its going to turn into a rabbit hole, it probably will.  Don't waste your time.
Josh says he asked Lou what the chances of a deal coming to fruition were amongst the buyers and sellers. Lou said 50/50. Then Josh asked what the chances were that he would ever see his commission. Josh says Lou took a really deep breath and said, "Practically zero."
"That's when he cut bait, so to speak," says Josh.  He continues that as difficult as it is, business brokers need to understand that they cannot stick around bad deals – and bad people.
"The truth is, you lay down with dogs, you get fleas," he says, apologizing that he has to cut off the call. His car service is there and he needs to pay attention to the road and the driver. "The best thing you can do is forget you ever had anything to do with them. The sooner the better. There is no amount of money that can pay for the heart ache and loss of ethics."
Joshua Factor is the founder of Vertica CRM. A software company dedicated to helping Business Brokers and M&A professionals work more efficiently through technology. For more information about their main product, Business Brokers CRM, visit www.BusinessBrokersCRM.com or call   +1 212 381 4994 in the USA or +61 385 184 759 in Australia.